Lead scrap buyers
Lead is used for many different reasons, such as building construction, lead-acid batteries, bullets, fusible alloys, etc. Lead scrap is the most convenient way of obtaining lead, thus it is an attractive product for scrap dealers. Below you may get acquainted with the list of lead scrap buyers and their requests.
Show more
We found 3 matching listings. Now displaying listings 1 to 3

Looking to buy lead scrap. Let us know the quantities you have and the supply terms.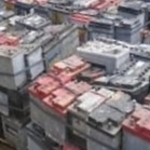 Drained lead acid battery scrap needed
Looking for drained lead acid battery scrap, i need about 300 Tons to be shipped to Sudan and i need quotation for the p..

Price: 300.00 USD
29-11-2017
We are UK based firm and deals in export and import business. We have some bulk requirement for Lead Acid Batteries on a..
Lead scrap requests
On the British Scrap Metal Portal you may find a full list of those, willing to buy your lead scrap. Apart from standard terms on deliveries, prices, scrap resources, some buyers offer additional professional assistance in battery removing or scrap inspecting, as most purchasers are interested in any amount of lead. The list of requests is constantly growing. Visit the Buy category and find out how much your lead scrap is worth.